Periodically I google recent blogs that mention bands I've been blogging about and go read them; I usually leave a comment and link back to my blog. Most of the viewers of my blog get to it from these links, so I really appreciate the support from the music bloggers. All they had to do is allow comments and approve mine - but not all sites will go that far.
I figure I should include periodic roundups of which sites I've found and read from and any pithy comments that ocur to me while I'm at it, so here goes.
I'll have to work back and figure out which sites I've linked to already, so any links that didn't generate any traffic will probably get overlooked. Hmm, maybe that's a feature!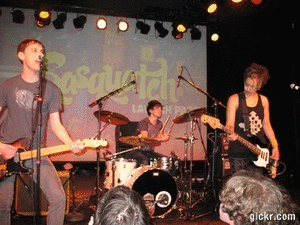 Stereogum's
Sasquatch! Lineup 2011 blog
generated the
most page views
. It's a good blog post, a short amount of text describing things, a linked in Sasquatch promotional poster image and a long list of awesome bands that aer going to play. Dense with useful information, even meaty. I'll have to check back periodically.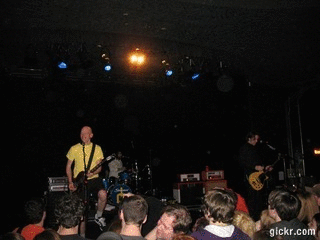 Presidents of the USA (PUSA) Blog
not only allowed me to post my comment, they then rewrote the blog post to include interesting links starting with the Seattle Times, Seattlest, and Mynorthwest.com but eventually working it's way down to the show by show list, and there for the sold out All-Ages day 2 show under reviews is:
"
PUSA-Fest at the Showbox Feb 19, 2011 (with Videos!) – Virtual Sound
"
The title is mine, but the "(with videos!)" is not, so they found the videos remarkable. That's pretty cool.
I got plenty of traffic from
KiK Axe Music which allowed me to comment on their Atomic Tom post about their video for the cover of "Don't You Want Me"
- I have a
complex relationship with that song
, although if you follow the most recent link you have to read a fairly long and rambling blog before it gets to my relationship with that song.
My own blog generated 4 views. So at least somebody has followed links from one of my blogs to another. Not too much of that, but it happens. I'll have to continue putting together more link heavy posts like this one and see if that increases the readership. Maybe I can drive a few more visits to the less seen pages like the
Rock and Roll Circus
,
January
and
February Veracity
shows,and the
All Ages Project show featuring Kimya Dawson
- somewhat obscure, but well worth checking out.
Next tied at 3 referals are
the Smoke Wreck Kings site
(includes a
free
ly downloadable album, so
check it out!
) and
Play On Daily, a nice music blog
with a simple Facebook "like" button include, so I liked their blog about the Presidents and a song they were hoping to hear and commented with a link back to my blog.
I ended up showing up in the background of the Sasquatch Fest slide show on the Seattle Weekly's music blog site so I commented on a blog there and got a couple of referals. That's me over there in the middle of the circle during Mad Rad filming some video.
Of course I put links to posts onto Facebook so I get traffic from that, but that's not quite what I was focussing on here. Similarly I get traffic from Google due to searches, they are usually pretty specific band or even band member queries shortly after I publish a post.
So I continue to search for blog posts on the bands I'm seeing and add comments referring back to my own web pages. Some generate traffic, some don't, but it's an interesting exercise. A couple of blog writers have responded by commenting on my blog post for the same show. Well, I went and looked and when I asy a couple I mean one, Dave. He doesn't have his profile publicly available so I can't follow it back to his blog. Too bad!
I got some traffic from Fault Magazine where I had commented about on
their Night Beats piece
about Seeing the Nightbeats at the February Veracity show.

ASAP Music had a Boyce Avenue blog
I commented on.
I just left a comment on the
mvremix rock blogs note about intro bands for the Decemerists
, we'll see if it triggers any views.
Update: I commented and
linked to my blog on Wild Nothing and Abe Vigoda
on blogs like
KCRW Presents, Morning Becomes Electric
,
Portland Events: Music, Art, Entertainment, Sustainability at PDXPIPELINE.com
,
NWMusicPDX
,
Confluence of Sound
,
the Heart Is A Lonely Hunter
(the post was a video of the band, no text), and
Reverb
(I think this Reverb blog is based in Denver)